GPS, DGPS, and global positioning instruments
These links will take you to information about the following instruments (includes picture, description, specifications, sample packing lists, weights & dimensions, rental rates, and user manuals):
Warning: the instrument specifications below are provided as a courtesy. Actual values may vary and need to be confirmed via the manufacturer.
Hemisphere A100, A101, and Atlaslink DGPS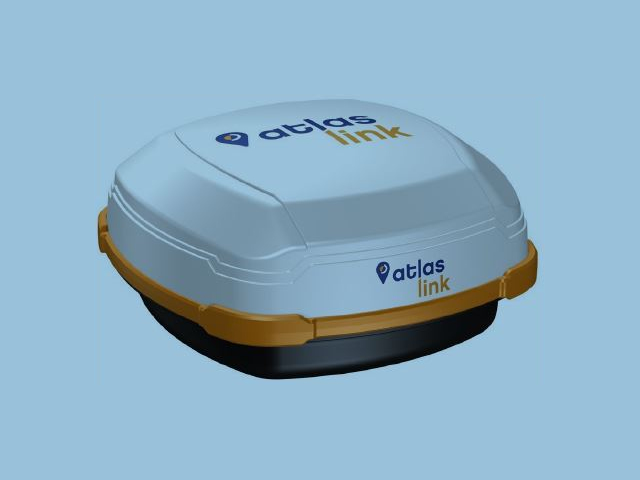 GPS Description:
Global positioning systems are a great way to keep track of an instrument's location when performing a survey. Often, fiduciary markers and notes can be inserted into files to keep track of important points of interest. Limitations of GPS include the quality of the GPS signal (no signal, float signal, or fixed signal), the GPS's accuracy, and the GPS's connectivity to an instrument.
The Hemisphere A100/A101 is a very user-friendly GPS unit. After hooking the A100's data cable to an instrument and providing the unit power, the GPS turns on and searches for satellites. No satellites are indicated by a red light. After finding some satellites of which are float quality the light will turn orange. Finally, after getting a fixed signal, the indication light will turn green and the GPS will be ready to use. Generally, this take about 10 minutes for the first time the A100 GPS is in a new geographical area. After initially finding a locked GPS signal in an area, subsequent GPS start-ups are quicker. The A100/101 provides sub-meter performance with 50 centimeter accuracy 95% of the time (see specifications).
The Hemisphere Atlaslink is multi-frequency smart antenna preconfigured to receive L-band corrections and receive correction from the Atlas GNSS global correction service. When enabled to receive the Atlas subscription based corrections, the unit possesses 8 cm accuracy 95% of the time. After first turning on the Atlaslink, the user will need to wait about 10 minutes (longer with a subscription) for the GPS to converge, after which the operator will be able to use this highly accurate GPS unit. Convergence time after initial convergence is much shorter.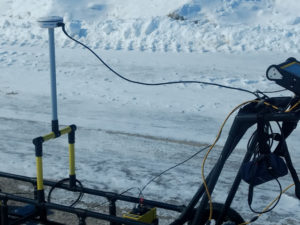 Warning: the instrument specifications below are provided as a courtesy. Actual values may vary and need to be confirmed via the manufacturer.
A100/101 Specifications:
Power specifications:
Input voltage: 7 – 36 VDC
Power consumption: < 2 W @ 12 VDC (typical)
Current Consumption: 150 mA @ 12 VDC (typical)
Power connector: Cable mount environmentally sealed
Mechanical specifications:
Height: 54.7 mm (2.2in) Width: 129.5 mm (5.1 in)
Weight: 0.66 kg (1.45 lbs)
Mounting Options: Magnetic mount
Fixed mount: low or high pole
Communication specifications:
Serial ports: 2 full duplex RS232
CAN: NMEA 2000 broadcast
Pulse output: 1 PPS (HCMOS, active high, rising edge sync)
Baud rates: 4800 – 57600 Differential correction
I/O protocol: RTCM SC-104
Data I/O protocol: NMEA 0183, SLX binary and NMEA 2000
Ground speed output: Range: 0.8 – >322 Km/h (0.5 – >200 mph)
Signal: Opto-isolated pulse out
Frequency Conversion: 94 Hz/m/s (28.65 pulse per foot traveled)
Event mark output: HCMOS, active low, falling edge sync, 10 k-ohm, 10 pF load
Environmental specifications:
Operating temperature: -30° C to +70° C (-22° F to + 158° F)
Storage temperature -40° C to +85° C (-40° F to + 185° F)
Humidity: 100%
Enclosure: Waterproof and dust proof
Compliance: FCC, CE
Shock: IEC 68-2-27
Vibration: ISO 16750-1
EMI certification: FCC part 15, E-Mark
GPS sensor specifications:
Receiver type: L1, C/A code with carrier phase smoothing (Patented COAST technology during differential signal outage)
Channels: 12-channel, parallel tracking (10-channel when tracking SBAS)
Update rate: 1 – 20 Hz positions
Horizontal accuracy: < 0.6 m 95% confidence (DGPS), < 2.5 m 95% confidence (autonomous)
Differential Options: SBAS, e-Dif, L-Dif
SBAS Tracking: 2-channel, parallel tracking
Start up time: 60 s (no almanac and RTC)
Satellite Reaquisition: < 1 s
GPS Atlaslink Specifications:
GNSS Receiver Specifications:
Receiver Type: Dual-frequency, multi-GNSS RTK
Signals Received: GPS, GLONASS, and BeiDou
Channels: 372
GPS Sensitivity: -142 dBm
SBAS Tracking: 3-channel, parallel tracking
Update Rate: 10 Hz standard, 20 Hz optional (with subscription)
Timing (1PPS) Accuracy: 20 ns
Cold Start: < 60 s typical (no almanac, ephemeris, position, or RTC)
Warm Start: < 30 s typical (almanac and RTC)
Hot Start: < 10 s typical (almanac, ephemeris, position, and RTC)
Maximum Speed: 1,850 kph (999 kts)
Maximum Altitude: 18,288 m (60,000 ft)
Positioning Accuracy:
Horizontal Accuracy: RMS (67%) 2DRMS (95%)
RTK: 1,2 10 mm + 1 ppm 20 mm + 2 ppm
L-Band: 1,3 0.08 m 0.16 m
SBAS (WAAS): 1 0.3 m 0.6 m
Autonomous, no SA: 1 1.2 m 2.5 m
L-Band Receiver Specifications:
Receiver Type: Single Channel
Channels: 1530 to 1560 MHz
Sensitivity: -130 dBm
Channel Spacing: 5.0 kHz
Satellite Selection: Manual and Automatic
Reacquisition Time: 15 seconds (typical)
Communications:
Serial Ports: 2 full-duplex RS-232, CAN
Interface Level: Atlas GNSS (webUI)
Baud Rates: 4800-115200
Correction I/O Protocol: Hemisphere GNSS proprietary, RTCM v2.3 (DGPS), RTCM v3 (RTK)
Data I/O Protocol: NMEA 0183, NMEA 2000, Hemisphere GNSS binary, Bluetooth 2.0 (Class 2), Wi-Fi
Timing Output: 1PPS, CMOS, active low, falling edge sync, 10 kΩ, 10 pF load
Event Marker Input: CMOS, active low, falling edge sync, 10 kΩ, 10 pF load
Power:
Input Voltage: 7-32 VDC with reverse polarity operation
Korea: 12 VDC
Power Consumption: 4.5 W nominal (L1/L2 GPS/GLONASS/BeiDou; L-band)
Current Consumption: 0.38 A nominal (L1/L2 GPS/GLONASS/ BeiDou; L-band)
Power Isolation: No
Reverse Polarity Protection: Yes
Antenna Voltage: Internal Antenna
Environmental:
Operating Temperature: -40°C to +70°C (-40°F to +158°F)
Storage Temperature: -40°C to +85°C (-40°F to +185°F)
Humidity: 95% non-condensing
Shock and Vibration: Mechanical Shock: EP455 Section 5.41.1
Operational:
Vibration: EP455 Section 5.15.1 Random
EMC: CE (ISO 14982 Emissions and Immunity),
FCC Part 15, Subpart B, CISPR 22
Enclosure: IP67
Mechanical:
Dimensions: 15.8 L x 15.8 W x 7.9 H (cm), 6.2 L x 6.2 W x 3.2 H (in)
Weight: < 1.15 kg (< 2.53 lbs)
Status Indications (LED): Power, GNSS Lock, Bluetooth
Power/Data Connector: 12-pin male (metal)
Antenna Mounting: 1-14 UNS-2A female adapter, 5/8-11 UNC 2B adapter, flat mount available
Typical packing list of items received when renting a Hemisphere GPS:
1 x GPS Hemisphere A100/101 or Atlaslink Antenna
1 x GPS Data Cable
1 x Backpack with Pole Mount
2 x Batteries
1 x Battery Charger
1 x Null Modem (if requested)
1 x Orange GEM Adaptor Cable (if requested)
1 x Data Logger and Data Logger Charger (if requested)
*1 x Shipping Case (22''x15''x12'', 25lbs)
*All dimensions are approximate and will vary depending on configuration and how each instrument is packed. Some shipping containers may be slightly larger/heavier than others containing the same instrument.
Often the GPS may be packed with a larger instrument if it is an accessory to another piece of geophysical equipment.
Suggested Items:
None
Items you may need to provide:
None
Software provided:
Upon request, software to configure the GPS will be provided at no additional cost.
Rental Rates:
The Hemisphere A100/A101 rents for $35 per day or $840 per month with a $35 prep fee.
The Hemisphere Atlaslink rents for $58 per day or $1392 per month with a $35 prep fee.
*** As a courtesy, we do not charge rent if the equipment is shipped on a Friday and in-transit with FedEx or UPS over Saturday, Sunday, and/or an approved holiday (only valid for rentals less than a month). In its sole and absolute discretion, Geophysical Equipment Rental LLC and/or K. D. Jones Instrument Corp reserve the right not to extend this courtesy.
Get an estimate to rent the Hemisphere GPS.
User Manual: